1. There is such a thing as knowing too much. An eventful past to reconcile with. And we haven't even got to my own.
2. I hate this template. But I hate the alternatives more. I also mean the blog.
3. With feeling comes pain.
4. I own 7 articles of maternity wear. My biological clock is set on snooze, apparently. This is costing me more than a baby. Dammit with the bloody hormones.
5. I still can't spell accommodate and obsessive correctly the first time.
6. I am incapable of writing academic papers. I am even less capable of writing chicklit. I have tried my hand at both. Not an hour ago. The paper begins with the myth of Echo and Narcissus. The chicklit began with the legend,"She blew a smoke-ring into the night air and declared, 'I hate tampons and men.'" I have wisely abandoned both. Paper and chicklit, not tampons and men.
7. This means I will never be rich or educated. Looking for one number millionaire male. Single, fat fetish preferred.
7. I have been winking at tiny human things. The response veers from great amusement to heartbreaking indifference.
8. Twice I dreamt of a room without a floor.
9. I think I got tricked.
10. I hate not being able to tell it like I feel it. I think I will do the fashionable blogshift.
11. Long-distance relationships:
pro -- No waxing! Ever!
con -- Right when you begin checking out that sexy geek,
he
will call and proceed to guilt the shit out of you. Besides, sexy geek can't tell if you're a man or a woman, what with all that virile undergrowth.
12. Bosses. Sleep eludes.
13. I'd written virulent outgrowth back there. I have GRE in a month.
14. Shit, I have a deadline and I can neither work nor sleep.
15. I watch
Stacked
to take fashion tips from the fat woman behind the counter. I don't know what the hell is going on in that show, and I don't see why Pammy's boobies should be considered ample substitutes for wit and humour. But that is none of my concern, because doods, I'm rooting for the fat chick. [I am
not
being condescending here, I just don't know her name or that of the character she plays. Or any of those characters. It's a
very
forgettable show.]
Five minutes later
Okay, googled and hyperlinked. Nobody's gonna call me a weightist. Her name's Katrina on the show. Her real name's
Marissa Jaret Winokur
, and she won a Tony! I liker.
Ten minutes later
This woman survived cervical cancer, had to get a hysterectomy done and didn't tell nobody about it! PLUS she won a TONY! And she was on one of them celebrity dance shows! Where she swung like a mad momma! She's big and pretty. I liker loads.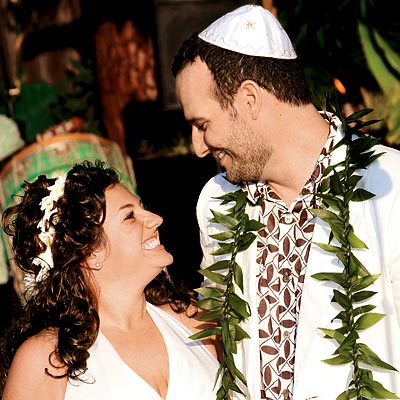 Pics courtesy www.etonline.com and www.instyleweddings.com